Farhin Rahman ND, MSc
Dr. Far is a licensed integrative healthcare practitioner who values a well-rounded and holistic approach for health & wellness. She believes in working alongside conventional medicine to 'fill in the gaps' like addressing
genetics
,
nutrition, sleep, stress, mood, energy, exercise, environment & lifestyle habits.
This helps Dr. Far dive deep into a person's health history to figure out the actual
CAUSE
of illnesses rather than manage symptom(s) alone.
Dr. Far Rahman obtained a dual degree-
doctorate in Naturopathic Medicine
as well as
Masters in Clinical Nutrition
from the University of Bridgeport in Connecticut. She earned her
Bachelors in Science in Nutrition Science
from Syracuse University. She is certified in Fascial Manipulation (Level I), as well as Generative Medicine from the Center of Excellence Institute. She has trained extensively with best-selling author of Eat Right 4 Your Type and bio-informatics extraordinaire, Dr. Peter J D'Adamo.
BOOK APPOINTMENT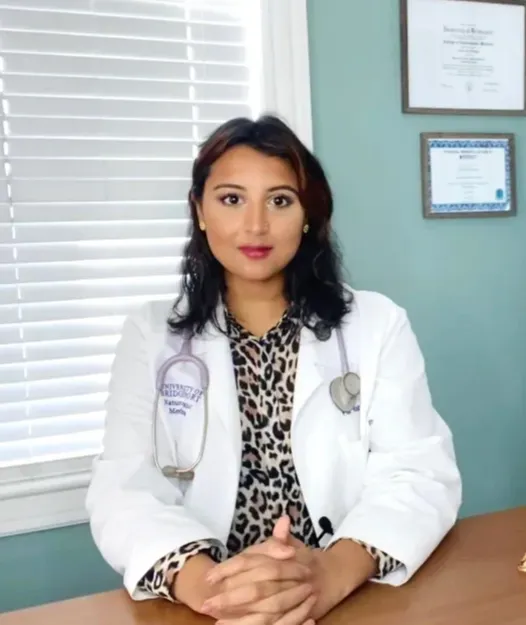 List of common conditions seen by Dr. Far
Can Natural Medicine Help Me?
Almost any illness can be resolved or improved by using a combination of nutrition, lifestyle factors, botanical medicine and other alternative strategies.
These are some common conditions (but not limited to) that Dr. Far can help with:
Musculoskeletal Disorders
Can Dr. Far help you?
If you are struggling with a condition OR simply want to feel the best you've ever felt,
then you're in the right place! If you'd like to chat first, schedule a FREE 15 minute phone consult with Dr. Far or call (856) 532-2063
Schedule Free 15 Minute Phone Call